Dr. Seyedfakhroddin Sajadi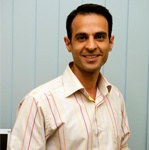 Dr. Seyedfakhroddin Sajadi

Dr. Seyedfakhroddin Sajadi is a qualified medical doctor. He was born in Iran.
Dr. Sajadi graduated from the Isfahan University of Medical Sciences. He worked in Iran for 7 years & then migrated to Australia in May 2013. He is a member of professional organisations including RACGP, ACC, & IMC. Dr. Sajadi's areas of interests include paediatrics, women's health, & mental health.
He speaks Persian and English fluently. His nick name is Frank.