Dr. Olga Lidia Castillo Gonzalez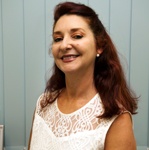 Dr. Olga Lidia Castillo Gonzalez
Dr. Olga Lidia Castillo Gonzalez is a qualified medical doctor & holds a fellowship in Royal Australian College of General Practitioners (FRACGP). She was born in Cuba.
Dr. Gonzalez graduated from the Superior Institute of Medical Sciences, Villa Carla, Cuba. She has worked as a general practitioner for more than 20 years in Cuba, South Africa, and Townsville.
She emigrated to Australia in 2004. She is a member of professional organisation including Royal Australian College of General Practitioners (RACGP).
Dr. Gonzalez's areas of medical interests include chronic disease management, woman and children's health, family planning, and skin surgery. Completed Certificate in Primary Care Skin Cancer Surgery in 2015.
She speaks English and Spanish fluently.
Personal profile: Married to Dr. Martin Gonzalez, mother of two handsome boys. She loves music and dancing & enjoys sports.